The game streaming industry continues its explosive growth, with gamers and eSports fans spending a record number of hours watching the gaming titles on the popular video-sharing platforms. However, some video game genres are much more watched than others.
According to data presented by 123scommesse.it, video streaming audiences across major streaming platforms watched nearly 850 million hours of mobile battle royale gaming content in 2021, 2.5 times more than MOBA games.
Twitch accounts for more than 50% of total Battle Royale watchtime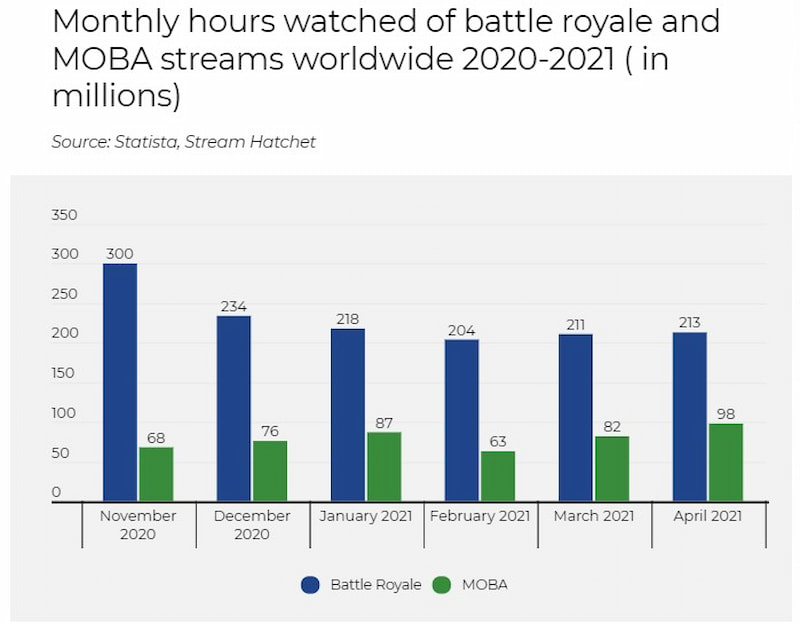 Although both mobile MOBAs and battle royales are immensely successful, the battle royale genre leads MOBAs in mobile game streaming.
The Stream Hatchet data showed that between the top two game genres, battle royale games like PUBG mobile and Garena Free Fire, generated an average of 151 million more monthly hours watched than mobile MOBA games.
However, statistics also revealed that the total battle royale watch time had been slightly decreasing since last year. In November 2020, the global mobile game streaming audience watched 300 million hours of battle royale titles. By April, this figure slipped to 213 million.
On the other hand, total MOBAs watch time jumped by 44% in this period, rising from 68 million hours in November to 98 million hours in April.
Statistics also show Twitch was the go-to live streaming platform for battle royale enthusiasts. With 276 million hours of content watched on this specific gaming genre, Twitch accounted for over 50% of total genre watch time. Youtube Gaming generated only 21% of the total watched hours of battle royale content, with the remaining 27% share going to Facebook's live streaming platform.
PUBG Mobile and Garena Free Fire hit 640 million hours watched in Q1 2021
The Stream Hatched data showed Garena Free Fire was the most-watched battle royale and fourth most-watched game in the first quarter of the year. Between January and March, the ultimate survival shooter game hit 327.1 million hours watched on Twitch, YouTube Gaming, and Facebook Gaming.
PUBG Mobile ranked as the second most-watched battle royale title, with a total of 317.7 million hours watched in this period. However, the Sensor Tower data showed Tencent's hit game was the top-grossing battle royale in the first quarter of the year. Between January and March, PUBG mobile generated $744 million in revenue.
Garena Free Fire ranked as the second top-grossing battle game with $255 million in revenue in that period.
(Source)