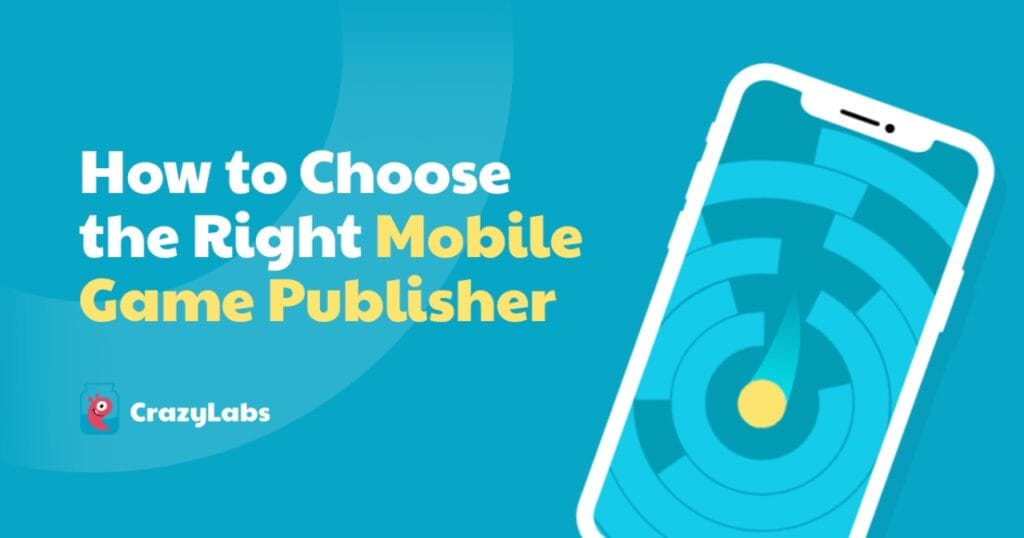 The Role of A Mobile Game Publisher
The role of a mobile game publisher at a high level is to provide you with (a detailed list below is to follow):
Fast, responsive support and effective feedback to help make your game succeed and scale. This support extends to all aspects of the game, from game design, UI/UX and development.
Valuable market insights to help direct you in the right direction of ideating, prototyping, and scaling while keeping a watchful eye on trends.
Financial backing lets you focus all your time and energy on producing a hit game.
What To Look For in A Mobile Game Publisher
Reputation & Experience – It is advisable to partner with a leading hyper-casual mobile game publisher as these companies have the track record, tools, a large user base, and game industry experts to help your game reach its highest potential. Also, reputable game publishers have dedicated Game Product and LiveOpps teams to A/B test, scale, and maximize your game's profits.
CrazyLabs' Head of Publishing, Shai Sasson, recommends thoroughly studying a potential publisher's portfolio. "Specifically look at the experience of scaling games to the top charts and keeping the games there. For example, one of CrazyLabs' top hit games, Phone Case DIY, released in 2020, generated over 250M downloads and is still in the top 100 games in the US and many other countries almost three years ago after the launch of the game", says Shai.
A Champion of Transparency – Working with a publisher whose top priority is always 100% transparency is non-negotiable. Transparency is crucial as it enables you to access: your game's testing performance in real-time and, more importantly, a detailed breakdown of your game's revenue and profit generated. You should also have access to granular data like level funnels, A/B testing performance, and other analyses to improve your game constantly.
A True Partner – You want to work with someone that you trust and can build a long-lasting relationship to develop many games together.
Cutting-edge Technology – The hyper-casual and hybrid spaces are constantly evolving at a super fast pace, and so game publishers who have robust technology can pivot to enable your game to succeed and become profitable in all market conditions. Specifically, ensure your future publisher has powerful acquisition and monetization technology to optimize and maximize your game's profits (a big benefit for working with an established publisher).
Below is a comprehensive list of what the ideal publisher has to offer:
Data-based approach through the entire game development process (e.g., from testing and publishing to scale). A data-backed approach is critical as it affects your game's marketability, user experience, A/B testing, monetization, and so much more.
A publishing manager that meets regularly responds fast and provides effective feedback.
Game ideation team to help you come up with game ideas or provide feedback on your game idea/concept
Access to industry and market reports based on the company's research and technology – this helps direct you in the right direction for coming up with a game idea.
Full support from a star team of game designers, product owners, creative managers, analysts, QA, in-house developers, user acquisition, and monetization pros.
Complete transparency at the highest, most detailed level possible
Creative experts who design your video creatives or provide you with feedback on how to improve your creatives to help improve your game's marketability
LiveOps teams who have the capabilities to scale your game to the top of the charts
A robust monetization team that devises your game's monetization strategy on ad placement, rewarded videos, ad locations, in-app-purchases, and more
The Benefits of Working With An Established Mobile Game Publisher
There are many advantages to working with a mobile game publisher, including funding (so that you can focus on building your game), access to game industry experts, greater game exposure, and reach. Below are two advantages of working with established publishers:
Access to capital – Even if you have the experience and know-how to develop and publish a game, you don't have the capital required to scale a game. Only by working with a publisher do you have the chance to reach the top charts as they have access to millions of dollars for user acquisition spend.
Access to revenue-making opportunities – Working with leading publishers opens the door for additional revenue-making opportunities. For example, CrazyLabs' Publishing For All (PFA) program guarantees that you make money from your game (assuming you meet specific KPIs) even if it fails to scale.
CrazyLabs also enables developers to make their hyper-casual games available on premium game consoles like Playstation, X-Box, and Nintendo to grow your game's revenue stream and exposure. For example, games like Run Sausage Run and Sausage Wars are available on these platforms, and we have many more games in the pipeline, which will be available on these platforms in the coming months.
Scaling Your Game – Ideally, you want to work with a publisher that has a large number of downloads, as this is an indicator that they know how to scale many games successfully. Thereby generating much higher revenues for you from your game. It's always worth looking at a publisher's portfolio of games. A publisher that has many games with over 100 million downloads versus a publisher that mainly has games in the 10 or 20 million downloads.
Partner With CrazyLabs on Your Next Game
CrazyLabs is a top 3 mobile game publisher and developer with over 6 billion downloads to date and over 250 million monthly active players in the hyper-casual, hybrid, and casual games space – it's safe to say that we have the proven capabilities to make top-chart games. Let's make your next game a hit.