Based on new games' revenue and download data provided by SocialPeta's App Intelligence, we've sorted out the top mobile games on the App Store and Google Play in Q1 2022, hoping to help more people in the mobile app industry understand the latest top games in the global mobile market, and provide inspiration for future products.
The following are analyses of specific products:
Top grossing new game ranking: App Store TOP1
Game name: Heaven Burns Red (Japanese name: ヘブンバーンズレッド)
Publisher: WFS, Inc.
App Store release date: 10 February 2022
Q1 revenue from the App Store: 10.5M (Unite: $)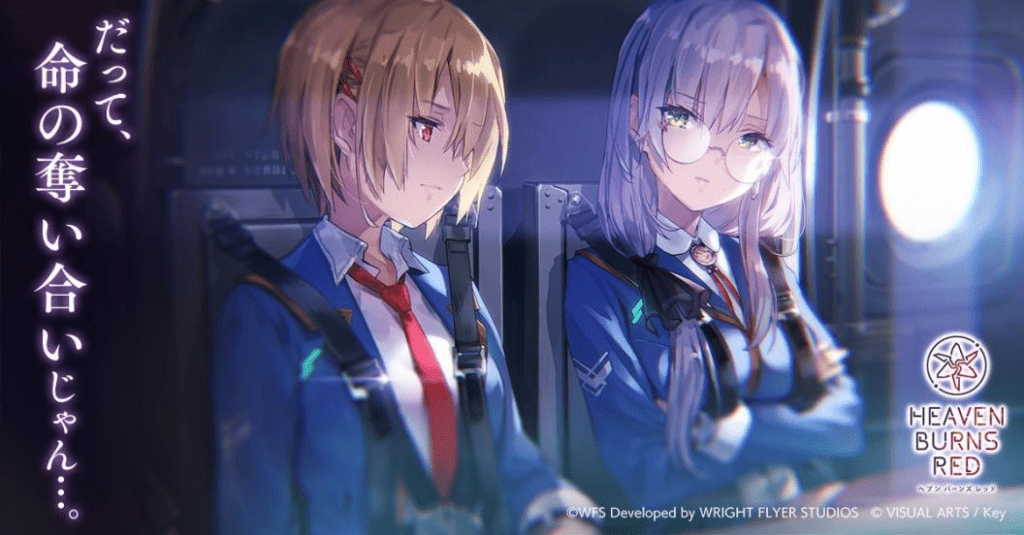 Heaven Burns Red is a Japanese RPG collaboratively produced by WFS and Key. The game was officially launched on 10 February 2022, with its core elements being apocalypse, school, pretty girls, and battles. Competing with famous games such as Genshin Impact, Uma Musume Pretty Derby, and Monster Strike, it had topped the App Store best-selling chart in Japan for several times. According to the data captured by SocialPeta's App Analysis, the game's Q1 revenue from the App Store surpassed $10.5 million.
Heaven Burns Red offers incredible game stories as its biggest selling point. After playing the game, some gamers commented that "two chapters of the game's storylines tell stories as rich and colorful as a whole gal game." It's rare in other apocalyptic games, but Heaven Burns Red is abundant in funny stories. The game's scenario writer Jun Maeda incisively and vividly described the depression of apocalypse and the pressure of imminent human extinction through funny scenarios.
Probably for this reason, Jun Maeda, Key, and other keywords are repeatedly mentioned in its promotional copies to attract gamers who are interested in game stories.
Heaven Burns Red's promotional copies that have received higher estimated impressions)
Top grossing new game ranking: Google Play TOP6
Game name: Dark Nemesis: Infinite Quest
Publisher: NUVERSE
Release date: 14 March 2022
Q1 revenue from the App Store & Google Play: 1.16M (Unite: $)
Dark Nemesis: Infinite Quest is a stunning dark fantasy MMORPG, officially released by Nuverse on 14 March 2022. It astonishingly generated over $ 1 million in revenue in just half a month. The game offers splendid landscapes, visually stunning special effects, and exciting battles to give its gamers a wonderful gaming experience. It received a rating as high as 4.5 on Google Play.
Dark Nemesis: Infinite Quest took a strategy of advertising a little during its pre-registration and advertising a lot after its open beta. According to data, the game started advertising in August 2021, but it has released less than 2600 deduplicated ad creatives by now. In terms of creatives, it is one of the less advertised mobile games in China.
Among all its creatives, the following one picturing battle scenes is one of the recently more popular ones. The video creative starts with a bikini beauty to attract viewers' attention, followed by a failure in battle to express a sense of frustration, and ends with defeating enemies after upgrading the weapons and power. As the story unfolds, viewers of the video first feel curious, then frustrated, and eventually excited. The creative engages viewers' emotions and increases their interest in the game.
Most downloaded new game ranking: TOP1
Game name: Fill The Fridge
Publisher: Rollic Games
Release date: 6 February 2022
Q1 downloads from the App Store & Google Play: 12.9M
Fill The Fridge is a puzzle game launched by Rollic Games in February this year. The main gameplay is to put various goods that need to be kept refrigerated into the refrigerator. I tried the game and think it is very easy, but sometimes it can drive players mad during the game. Because, though each kind of goods looks almost the same in size, there's always one or two goods that can't be stuffed into the refrigerator. It's obviously a game that would "deeply upset" people with OCD who wouldn't let it go easily.
Like Rollic Games' other games, Fill The Fridge greatly increased its ad creatives right after its release. According to the data captured by SocialPeta, it has over 6000 deduplicated creatives up to now. Facebook, Audience Network, Messenger, and Instagram are its main advertising platforms, with creatives on each of them accounting for over 23%.
Advertising channels of Fill The Fridge within 90 days
The design of its creatives follows the pattern of popular puzzle games, which is a display of its gameplay with a failed challenge, inducing gamers to download and install the game.
Most downloaded new game ranking: TOP2
Game name: Army Commander
Publisher: Lion Studios
Release date: 4 February 2022
Q1 downloads from the App Store & Google Play: 12.7M
Army Commander is a casual mobile game released by Lion Studios. In the game, the Blue soldiers fight battles to collect nameplates which will drop when the Red soldiers are defeated or ally soldiers die. The nameplates can be used to upgrade barracks and improve battle power so as to defeat the Red soldiers eventually.
As a military-themed casual game, the game doesn't have to make different arrangements for different regions. So it adopted a global advertising strategy. The US was its first choice. With each of the other regions receiving an average of about 2.6% of its ad creatives, the US had 4.26% of its creatives, the highest share among all regions.
Advertising regions of Army Commander within 90 days
Note that among all the hot creatives of Army Commander, there were many creatives with comic effects, namely making the game scenes more comic-like. Though not very well accepted, such a type of creatives is very innovative.
(Duration: 43 days Estimated conversion: 176)
Most downloaded new game ranking: TOP3
Game name: Theme Park Fun 3D!
Publisher: Alictus
Release date: 4 January 2022
Q1 downloads from Google Play: 5.3M
Now let's check out Theme Park Fun 3D!, an amusement park simulation game that integrates entertainment facilities of multiple amusement parks. Gamers control devices or evaluate users when playing each entertainment facility in order to earn the highest scores.
(A screenshot of Theme Park Fun 3D!)
It is common to take pleasure in other people's misfortune. Watching characters suffering in game will give players a false sense of their superiority over others. The idea of having such pleasure for free easily lures people into installing the game. The following creative of "Crazy Disco Tagada" applies exactly the same method to engage players' emotions.
The game received most of its downloads from India, which accounted for 28.3%. Mobile games of the same type can learn something from its design of creatives if they have plans for advertising in India.
Conclusion
Generally, in terms of Q1 revenue, the top new games were hard-core RPGs or adventure games. Those games could achieve outstanding performance at the early stage after their release because they met the tastes of the specific regions where they were launched. In terms of downloads, the top games were mostly hyper-casual games, their biggest advantages are simple gameplay and innovative themes.
According to SocialPeta's Data Institute, if a newly published game wishes to distinguish itself in the fiercely competitive market, it needs to focus on its differentiating features and also on other competitive games' market performance. It also requires a reasonable marketing plan, and to win by developing its strong points and avoiding its weak points.