Niko Partners, the market research and analysis company focused in Asia, released a new report projecting the Asia-10 gaming markets will hit $41 billion in consumer spending by 2026.
Related: Online games market is expected to grow $46B by 2026
Asia-10 consists of Chinese Taipei, India, Indonesia, Japan, Korea, Malaysia, Philippines, Singapore, Thailand, and Vietnam. Niko Partners states that each market's different culture, gamer preferences, and spending behaviors mean there is no one size fits all approach to the region.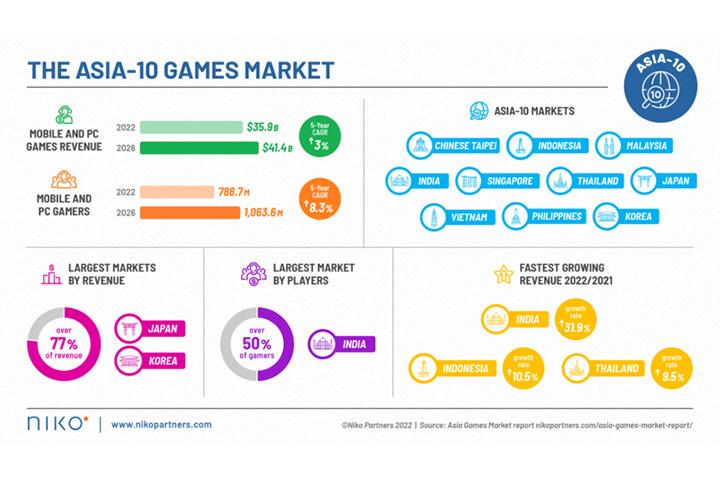 Key takeaways from the analysis are:
Niko Partners projects the Asia-10 PC and mobile game market will generate $35.9 billion in 2022, reaching $41.4 billion in 2026
Gamers are increasing at a much faster rate than revenue. Niko Partners projects the Asia-10 PC and mobile gamers will total 788.7 million in 2022, reaching 1.06 billion in 2026
Niko Partners has slightly lowered the forecast for 2022 from what was projected for the year in 2021. This is due to challenging global macroeconomic environment, regulatory impact, and underperformance in growth areas such as blockchain gaming, cloud gaming and metaverse. The lower forecast for 2022 will impact growth rates through 2026
India, Thailand, and the Philippines are the fastest growing markets for games revenue and number of gamers
Japan and Korea are the most mature markets in the Asia-10 region, accounting for over 77% of revenue. For 2022, Japan games revenue is down 2.6% YoY and Korea's is flat.
India is the second largest gamer base in the world, with 396.4 million gamers, making up 50.2% of all gamers in Asia-10. India is also the fastest growing market with a 5-year growth rate of 21% for revenue
Report also says that esports, which returned as a medal sport in 2022's Southeast Asia Games, solidifying the inclusion of esports an official sport in the region.