MOBA (Multiplayer Online Battle Arena) has proven to be one of the most competitive and lucrative game genres in the mobile game market. While Tencent's Honor of Kings is the world's top-grossing mobile game to date, Mobile Legends by Moonton studio and Brawl Stars by Supercell are among the games that have made a big hit globally.
The global COVID-19 restrictions for the mobile game market have resulted in a dramatic growth in the overall volume of the industry. As in the rest of the market, this growth can be clearly observed for the MOBA game genre. While the revenue of MOBA games in 2020 grew by 43 percent, this figure increased by 14 percent on a monthly basis for 2021, reaching over $300 million. The game that leads in these growth rates is Honor of Kings.
Honor of Kings is the leader in overall revenue, while Brawl Stars and Wild Rift rank higher in downloads.
Honor of Kings generates $10 billion in revenue
Launched in 2015 and known in the West as Arena of Valor, Honor of Kings earned a total of $10 billion in player spending. With this amount, Honor of Kings, which is the game with the highest revenue in the App Store and Google Play, has already accumulated 2 billion dollars in its 2021 revenue pool.
Brawl Stars has become another favorite of MOBA players with its interesting events and rich content. Mobile Legends and League of Legends: Wild Rift follow Brawl Stars, which ranks second on the player spending list with $320 million.
Pokémon Unite has entered the industry fast
Pokémon Unite, which has attracted great interest since its release on the mobile platform on September 22, reached 15 million downloads in just two days. Developed in collaboration with TiMi Studio and The Pokémon Company, the game has the distinction of being the fastest-growing game of its kind with this number of downloads. Pokémon Unite seems to be making a name for itself with the 30 million downloads it reached when it completed its first week.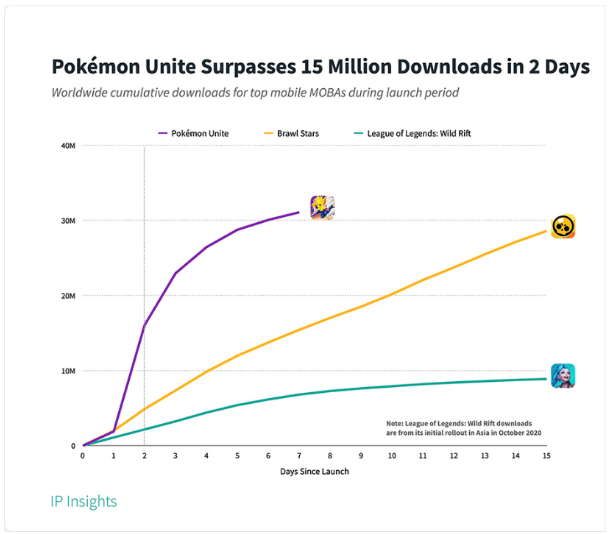 MOBA games, which are one of the most popular and fun game genres, maintain their serious place in the mobile game industry. The games that are admired have a unique player base. It is also a matter of curiosity how the successful mobile MOBA games will affect the number of players in the coming days, although they have just entered the market.