2023 is a year full of hope, witnessing the tidal advance of mobile game globalization that the productivity revolution led by AIGC drives. 2023 is also a year full of challenges because mobile game globalization is facing a more significant challenge with increasingly fierce competition, changes in exchange rates, and a downturn in the global game market. The success of a game's globalization depends upon many key factors, including critical elements of localization, important dates for marketing, and updates of competitive products.
Under such circumstances, SocialPeta released its report "Q1 2023 Insights into Global Mobile Game Marketing Trends", offering a precise analysis of the industry data of Q1 2023 in terms of global mobile marketing, popular regions, precision marketing, and popular mobile games' marketing. This report is meant to provide people working in the industry with insights into global marketing and product globalization.
I. Global data overview: Competition among global games has peaked with 50K game advertisers and 7.80M ad creatives in the market
2023 will witness the recovery of the global game market in the post-pandemic era. At the beginning of the year, Q1 2023 saw nearly 50K advertisers with new advertising and almost 8 million new creatives, with one new creative among every three creatives.
North America had about 13K monthly advertisers, the highest among all regions. China's HK, Macao & TW regions, JP & ROK, and Southeast Asia had the highest monthly creatives, each with over 200.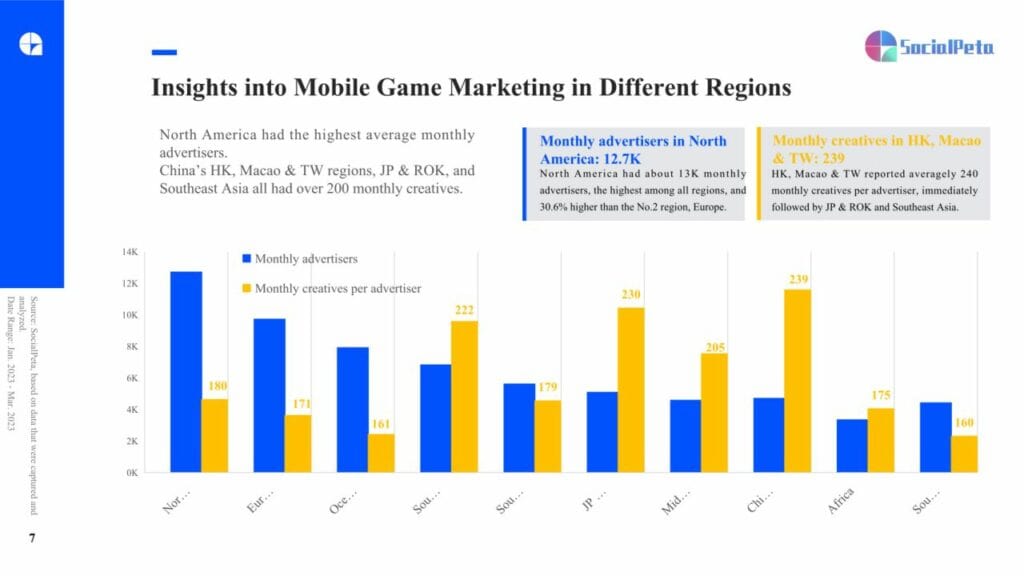 II. Market Analysis by Country
1. The United States: Puzzle games were the most cost-effective, and action RPGs had the most downloads in Q1
The US market showed no preference for gameplay. So good simulation games, strategy games, and RPGs all generated high revenue in the market. Meanwhile, as the biggest market by media buying, the US reported astonishing downloads of hyper-casual games, and puzzle games were noted as the most cost-effective.
According to SocialPeta, the action RPG [Street Fighter: Duel] topped the downloads chart in the US in Q1 2023. In terms of revenue, the US mobile game market experienced a slowdown in growth in the post-pandemic era, with revenue projected to reach $74B.
2. Middle East: No.1 in terms of revenue and downloads growth
Strategy games contributed the highest percentage of revenue, accounting for over 30%, and most of the games were from Chinese companies. The local gamers also loved games with action and shooter elements, a typical example of which is [PUBG Mobile].
There was a high percentage of paying players in Saudi Arabia; mid-core and hard-core games were the highest-grossing. Türkiye reported rapid growth in mobile game market size, revenue, and users' play time. Egypt was an emerging market for which mobile game companies worldwide had been competing.
3. Southeast Asia: RPGs spent more effort on marketing. Top games by downloads were primarily casual games
The whole Asian-Pacific region favored RPGs. Southeast Asia spent the most effort on marketing. And RPGs contributed the highest percentage of revenue.
Southeast Asia reported the most significant revenue growth in mobile games, and the revenue growth is expected to be about 90% from 2020 to 2023, far above the global average increase.
More detailed analysis of popular markets, please read the SocialPeta Q1 2023 Global Mobile Game Marketing Trends Insights Report.
III. Trends of Creatives
1. New theme + mini-game, SLGs was in active pursuit of changes
Strategy games, especially 4X SLGs, have been the highest benchmark for mobile games' revenue and media buying, and they were also the first that noticed the economic winter. Great marketing efforts and active pursuit of changes have become the basic measures SLGs adopt to enter the global market.
Innovative themes and combined gameplay have become another indicator of hit mobile games. Immediately after starting a boom of ant games, StarUnion released a vampire game [Nations of Darkness]. While 37Games entered the innovative-theme game market by releasing [Primitive Era], a game about prehistoric men.
If an innovative theme is the first step in making a new game, mini-game media buying is the first step of game marketing. As the market grows more competitive and saturated, marketing and media buying become more important to strategy games in a mature market.
2. Simulation games created based on inspiration from ad creatives
Of course, strategy games weren't the only genre in the urgent pursuit of innovative themes. Simulation games tried harder with innovative themes. The business simulation game [Frozen City] released by Century Games became the most outstanding among all new games released globally in 2023, all thanks to its theme of survival in an ice apocalypse.
3. The most important part of casual games was the payment system
Unlike strategy and simulation games that combined hard-core gameplays with light ad creatives, casual games progressed towards industrialization, templates, and novelty.
After [Survivor.io] won great popularity, many game companies noticed the "roguelike + hack and slash" mode and its potential to increase profits. New games can be quickly created through industrialized game templates (including game UI and payment system design). And ad creatives can also be rapidly made based on templates.
For more case analysis of popular game genres and successful games, please read the SocialPeta Q1 2023 Global Mobile Game Marketing Trends Insights Report.
IV. Conclusion
This report's data cover nearly 70 countries/regions worldwide, with over 70 mobile marketing platforms and over 1.3 billion mobile marketing creatives.