The Q1 2022 report by Stream Hatchet offers a detailed look at the last three periods. The report includes the current status and popularity of live-streaming platforms, insights from game streamers, and information specific to esports.
Streaming growth has begun to cool down in Q1 2022. However, it's essential to consider the context of where video game streaming viewership was previously. Hours watched across the leading platforms are still up by 66% compared to the same period in 2020.
Gaming leaderboards are dominated by Twitch, with all Ten of the top overall streamers and Seven out of Ten of the top female creators broadcasting on the platform. However, competitor platforms such as Facebook Gaming, Afreeca and Trovo are quickly gaining market share.
For marketers looking for further insight into the behaviors of the Twitch audience, we've taken an in-depth look at casual / core Twitch viewing habits. We have found that that Core viewers watch an average of 276 minutes a day, and therefore are far more likely to be receptive to repeated advertising and sponsorship campaigns.
Market Insights
Combined and individual growth of the leading western streaming platforms
Combined live video game streaming viewership trends
The growth rate of video game live streams achieved as a result of lockdowns from the Covid-19 pandemic has begun to stabilize: Hours watched decreased 7% this year when compared to Q1 2021.
This decrease in hours watched may be partially impacted by creator fatigue: The average amount of channels that broadcasting at any given moment during Q1 2022 decreased by nearly 13% from the same time period in 2021.
In spite of this decrease, video game streaming viewership has sustained as a pop culture phenomenon: Q1 2022 total hours watched is up 134% relative to the Q1 2019 period.
Video game streaming platform market share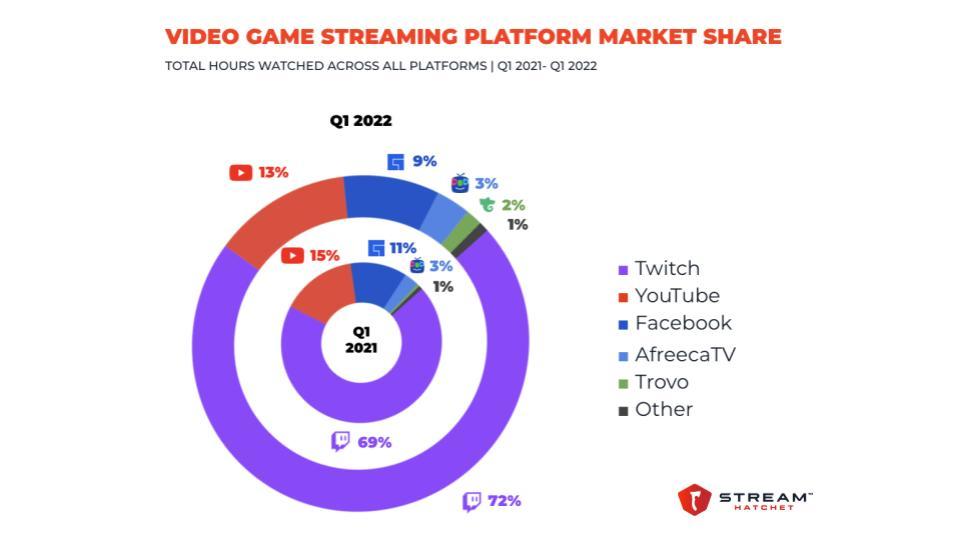 Twitch continues to hold the lion's share of the streaming market, generating nearly 3/4 of the total hours watched.
AfreecaTV, a South Korean live streaming platform, has increased its share significantly relative to last year. In Q1 2022, hours watched grew 5% totaling 286M hours.
The platforms with the most significant growth from last year are Trovo, the Tencent live streaming platform, and Naver TV, a South Korean live streaming platform. Trovo grew 188% to 136M hours watched, and Naver TV grew 141% to 47M hours watched.
Esports market segment growth trends
Esports has continued to rise in popularity each year as gaming continues to break into pop culture. Compared to broader market trends, global esports audiences have been less impacted by the end of the global lockdowns: Total esports hours watched decreased by just 0.3%.
From a historical perspective, esports viewership has increased substantially from pre-pandemic levels: From Q1 2019 to Q1 2022, total esports hours watched has grown upwards of 63%.
Twitch is the definitive place to watch esports content. It accounts for 80% of the total Q1 2022 hours watched. It's worth highlighting that eastern platforms Afreeca ( 3% ) and Naver ( 2% ) have captured significant market share relative to other leading streaming platforms.
Leaderboards
It continues to be a challenge for new games to reach the pinnacle of video game broadcasting. The first two of the most-watched games have been holding their place since the 4th quarter of 2020.
Top games Q1 2022 & rank change vs Q4 2021
Strong game launches from Elden Ring & Lost Ark have propelled both titles into the top 10. Lost Ark's North American release helped it garner a total of 205M hours watched this quarter. Elden Ring launched just one month before the end of the quarter, and was still able to place 6th in the most watched titles this quarter.
Mobile Game streaming has fallen in popularity this quarter; only one game, Garena Free Fire, cracked the top ten. The 2nd most watched Mobile title, PUBG Mobile, was banned in India, which may have contributed to a 48% drop in hours watched this quarter.
Streamers
xQcOW once again took the top spot for streaming creators in Q1 2022. This marks the 7th straight quarter he was the most watched channel across all three major streaming platforms.
60% of this quarter's leaderboard was led by non-English speaking channels as (4) Spanish, (1) Portuguese, and (1) Japanese creator. Spain contains to be a bastion for streamer culture with streamers like Ibai, Auronplay, Elxokas and Juansguarnizo dominating the leaderboards.
Juansguarnizo saw a huge increase in hours watched when streaming the Egoland 2 Rust server, which shut down in early Feb. Juansguarnizo generated 2M hours watched from Rust alone in Q1 2022.
Top streamers reach across all social media
Streaming reach does not always equate to reach across broader social media: The top 3 creators by social each fall below 3rd place within a treaming context.
Conversely, social media reach does not equate to streaming popularity. Despite being the 3rd most watched streamer of Q1 2022, Trainwreckstv has the 9th largest social reach.
Spanish creators have been the most adept at audience across mediums: The top three creators by social reach are based in Spain.
Top female streaming creators Q1 2022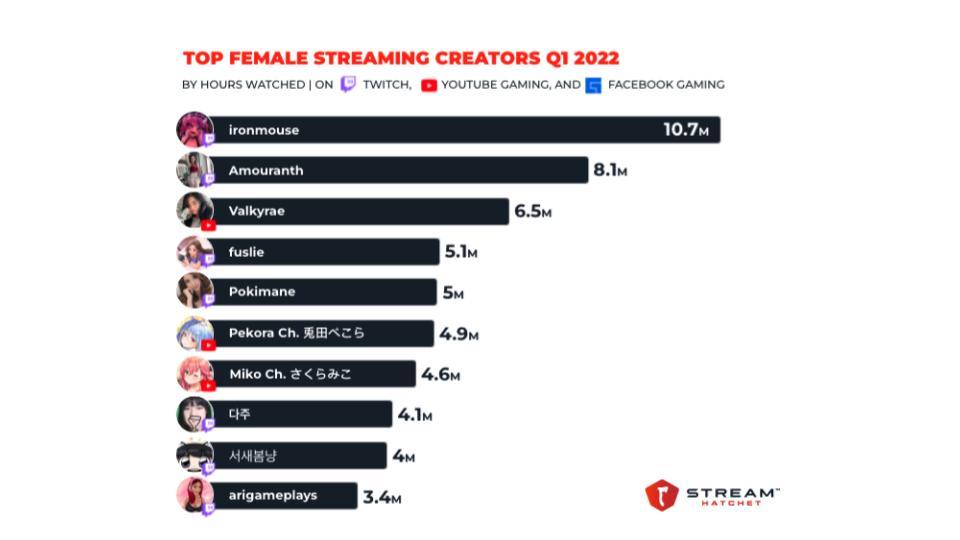 The top female streamer for Q1 2022, Ironmouse, is a VTuber who experienced massive growth as a result of a 31-day subathon. During the subathon, she gained over 170K Twitch subscribers, making her the most-subscribed female streamer and third overall Twitch streamer of all time (Ninja and previously Ludwig).
Additionally many of the other top female streamers are also VTubers: ironmouse at 1st, Pekora Ch. 兎田ぺこら at 6th, and Miko Ch. さくらみこ at 7th.
Gaming culture continues to expand to international audiences: Half of the top female streamers were non-English speaking creators. two Japanese, two Korean, and one Spanish-speaking creator made up the top ten.
Top live streaming VTubers in Q1 2022
VTubing, or Virtual YouTubers, are content creators who utilize virtual avatars using computer graphics and real-time motion capture software to take on anime-inspired avatars. The trend has quickly grown into a leading content category in game streaming.
Not only was ironmouse the #1 female streamer, but she was also the #1 Vtuber with 10.7M hours watched.
Of the top ten, seven are represented by Hololive, the leading VTuber talent agency, and generated a total of 17.95M hours watched. Hololive currently has 68 affiliated VTubers.
It's important for marketers to examine a variety of KPIs when sourcing influencers: While Gawr Gura is the most subscribed VTuber, amassing a total of 3.9M subscribers, she is the 6th most-watched VTuber in live-streaming.
Viewer engagement by fan type
Watch on average of 6 hours of Twitch each month. They typically watch streams to laugh and to be entertained.
Conversely, Core Viewers watch nearly 5 hours of Twitch each day. They are deeply immersed in streamer culture, and are interested in the competitive elements of gaming including esports.
What should we understand from the data?
Size of audience is not always the most valuable KPI for marketing campaigns. Measuring engagement is often more crucial for marketers to understand whether their messaging is driving attention. As an example, while Core Viewers make up less than 8% of the total audience, they generated 2/3of total hours watched on Twitch during Q1 2022.
As a result, Core Viewers are 24 times more likely to watch repeated advertising, sponsorship and other branded content as they watch a significantly larger amount of Twitch content than Casual Viewers. Core Viewers are more likely to engage with more with content on Twitch, be it watching a particular streamer or game and even chatting directly to streamers and participants within Twitch chat.
Twitch viewer interest profile by viewer type
When activating with gaming creators, it's crucial for marketers to have a sense of the type of fan they are reaching. While the casual audience typically offers scale, core viewers offer higher engagement in watch time & chat engagement.
Our analysis examined the top three channels for casual viewers vs the top three channels for core viewers. In general, core viewers watch nearly three times as much content of the top streamers vs casual viewers.
Streamer Gaules reaches an incredibly dedicated core audience. His viewers watch him nearly twice as long as any channel sampled. Due to the nature of his content, and his long history within esports, Gaules generates significant engagement, 11pts higher than the other channels within our sample.
Core vs. casual: Viewer data – top games
For game publishers launching new titles, it's important to understand whether viewers are watching streams for creators, or for the game content.
For the top game releases of Q1 2022, we have segmented viewership into viewer cohorts to investigate hours watched by fan type during key points of the release cycle.
Elden Ring and Lost Ark have captivated core viewers and as a result have driven success in broader streaming: Both titles were two of the most watched games this quarter ( 6th & 7th ).
Throughout the games' release cycles, Elden Ring and Lost Ark core viewers have accounted for over half of each game's hours watched.
In contrast, Pokémon Legends: Arceus has not landed with core viewers. The average viewer of Pokémon watched less than four total hours 30 days into its release cycle.