It can also be played on a computer with the PUBG Mobile emulator. We have explained the method that will allow you to lead each match to victory and to get plenty of scores from the computer. If you're ready, let's start.
Advantages of Using Emulator
If you are an ambitious gamer who wants victory every time, the emulator might be a good choice for you. It can be used not only for PUBG Mobile but also for all mobile games. In fact, its basic logic is to play mobile games from the computer with keyboard and mouse support. There are some advantages of playing from the computer, of course. For example, playing on a bigger screen, playing at higher settings. Some games do not allow using emulators, but PUBG is not one of them.
Before explaining how to play mobile games with the emulator, there is one more thing we need to mention. While playing PUBG Mobile from the phone, you will see players who only play from the phone. However, you can come across other players playing from the computer while playing on the computer. As soon as you enter the game, the game sends you a notification. Playing with the emulator is completely legal and has no prohibition. Now let's take a look at how BlueStacks and PUBG Mobile are played on a computer.
How to play from computer with PUBG Mobile emulator?
First, you need to download BlueStacks from its official website. Thanks to this completely free and reliable method, you can play all mobile games from the computer. After downloading the installation file and installing the program, run it directly. It comes with Google Play Store installed in BlueStacks. After logging in with your Google account, you can download the game you want. For some games, you may need to make special settings yourself. However, PUBG Mobile is not one of them; all settings are made almost automatically.
After downloading PUBG Mobile, it is installed automatically. At this stage, you must first choose which account you want to play with. So, do you want to play with your account that you played on the phone, or do you want to use a new account while playing on the computer. If you want to play with your account on the phone, you can log in from the accounts section. If you want a new account, you must also open a new account. After completing all these, we can now look at the keyboard settings.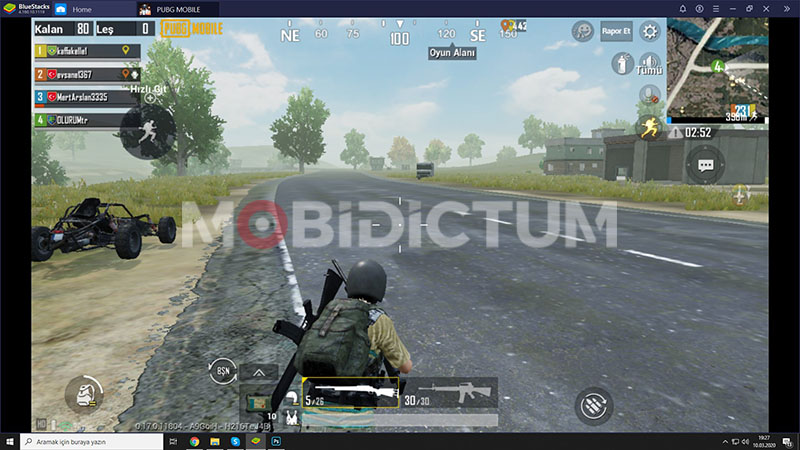 Keyboard and Mouse Settings
We enjoyed it when we tried it. Keyboard and mouse support provides incredible game control. In a way, it makes your job much easier. First of all, when playing with BlueStacks, all settings are already made. So all keyboard keys have a function. At this stage, you have to decide whether you want to use it this way or will you make changes? If you want to make changes, you have to click on the keyboard icon on the right side of the screen. You can make the settings you want in the PUBG Mobile keyboard settings.
F1
You don't need to do anything extra for the mouse. Already detected automatically. Usually, when you enter the game, the mouse first acts as the cursor. Just press the F1 key to turn it off in the game. If you want to use it as a cursor again, you can press F1 again. Apart from that, you can change the mouse settings in the section where you set the keyboard settings. However, we don't think you will want to use it.
Presets
In addition to all these, there are a few keyboard settings functions that come ready. You can access these settings from the top right menu after clicking the keyboard icon. Each setting includes different key assignments, ie tasks. If you don't want to set it up individually, you can use one of the presets here. If you want to make a single change after selecting the presets, you can do this again without any problems. Now it's time for the graphics settings.
What about the system requirements?
BlueStacks provides many different possibilities in game settings. These are graphics and performance settings, as well as keyboard and mouse settings. Thanks to these settings, you can play all mobile games even on the computers we call "toasters". PUBG Mobile graphics settings are made within the game itself. For this, you need to enter the settings from the menu. After entering the settings, click on the graphics option on the right. At this point, the settings you will make will change according to your computer. You can use trial and error method here.
You can also choose the best settings if you have a good computer. However, since this is a mobile game, it doesn't make much sense to choose the best settings. Instead, you can focus on the color settings. Since you will be playing on the big screen, the images will come to you very clear and high quality. Only at the lowest settings there is a serious loss of graphics quality. After you have made the graphics settings, you can now log into the game.
In this content, we searched for the answer to the question of how to configure PUBG Mobile keyboard and graphics on BlueStacks. If you have any different issues, you can reach us through our social media accounts.