The ad Intelligence & analytics platform Apptica released a report identifying the best grossing mobile game of Q2 2022. The data obtained in this report was collected from 37 countries, starting from April 1 and ending on June 30.
Note: Chinese mobile games market seems to be not included, considering how Honor of Kings, one of the most popular mobile games in China, is completely MIA in the top grossing charts.
The data provider decided to divide the top revenue-generating games into two main categories: Android and iOS. According to the analysis, mid-core was the highest-grossing mobile games genre in this quarter across both iOS and Android markets.
During the three-month period, Lilith Games' Rise of Kingdoms reached $2 billion in lifetime revenue and earned over $179,5 million, becoming the most revenue-generating mobile game in Q2 2022.
Two major publishers, Playrix and Playtica had the most entries in the Top 10 charts Apptica shared with each having 16.2%, while Supercell and King followed them with 10.8% each, and Lilith with 8.1%.
King was the highest earning mobile game publisher in Q2 2022 with $264 million across iOS and Android, followed by Lilith Games with $254,6 million and Playrix with $182,8 million.
Top 10 Grossing Android games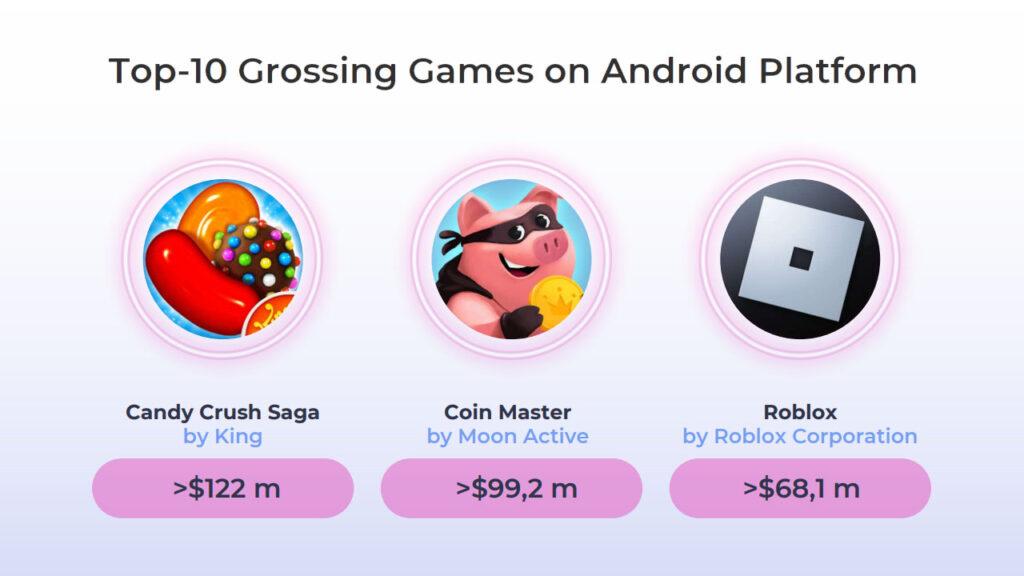 Candy Crush Saga – King – $122 million
Coin Master – Moon Active – $99.2 million
Roblox – Roblox Corporation – $68.1 million
Evony: The King's Return – TG Inc. – $51.2 million
Pokemon GO – Niantic – $49.6 million
Clash of Clans – Supercell – $49.5 million
State of Survival: Zombie War – FunPlus International – $48.1 million
Call of Duty Mobile – Activision – $43 million
PUBG Mobile – Tencent – $42.4 million
Candy Crush Soda Saga – King – $37.3 million
Top 10 Grossing iOS games
Rise of Kingdoms – Lilith Games – $179.5 million
Candy Crush Saga – King – $85.2 million
Clash of Clans – Supercell – $57.7 million
Age of Origins: Tower Defense – Camel Games – $55.7 million
Pokemon GO – Niantic – $55.6 million
Genshin Impact – miHoYo – $55.2 million
Roblox – Roblox Corporation – $49.7 million
Dislyte – Lilith Games – $40.5 million
Call of Duty Mobile – $38.7 million
Royal Match – Dream Games – $35,4 million