Dream Games, aiming to double the fund of $50 million, released the puzzle game named Royal Match. The game which was published in Google Play Store and Apple Store is actually the first step of a great goal.
Dream Games announces its first game, Royal Match
The first game the team released after raising $50 million in funding was a puzzle game. There is a reason why the major gaming studios in Turkey focus on puzzle games in recent years. The puzzle genre attracts attention as one of the most downloaded genres, recently. For this reason, many game studios, both local and global, want to focus on puzzle games without risk.
While the team will focus on the audience for puzzle games, for now, it will also be focusing on a bigger goal in the future. Making a statement on this subject, Soner Aydemir, CEO of the studio, said that they focused on puzzle games at first because everyone played these. He expressed that they want to grow Dream Games as an entertainment company in the future. Soner Aydemir, who also gave spoilers about what the team will do in the future, said that they wanted to make high-quality global games.
The team comes from Peak Games
The team of Dream Games raising $57.5 million ahead of launching any games, comes from Peak Games, one of Turkey's largest game studios. The team, which has been working together for years, now aims to reach the same success as they did with Peak Games. The company's value has not been disclosed yet, but it has managed to raise millions of dollars.
In this case, what actually gives investors confidence is that the team has been together for many years and they come from a company that has acquired for $1,8b. Soner Aydemir, CEO of Dream Games, was the director of product of Peak Games for a long time. He was leading the games that reached millions of players. İkbal Namlı and Hakan Sağlam, who are among the founders of the new studio, were also a part of the Peak Games team for a long time as software engineers.
Finally, Eren Ergül, who was one of the co-founders of the studio, was the product manager of Peak Games and Serdar Yılmaz was on the team as 3D-Artist. The team, which has been together for a long time and has already launched games for years, has now managed to collect millions of dollars for their own studios. Their goal in the coming years is to become a big entertainment company, as Soner Aydemir said.
Royal Match reached 1 million downloads during the test period
The Royal Match was launched first as a limited test in the U.K. and Canada in July and managed to reach 1 million downloads in a short time. Soner Aydemir, who also made statements about the test period, indicated that they saw 200,000 daily average users and 1 million downloads. These results were very promising. Now the game is expected to reach millions of users in a short time after its first launch. They have already reached 500,000 users.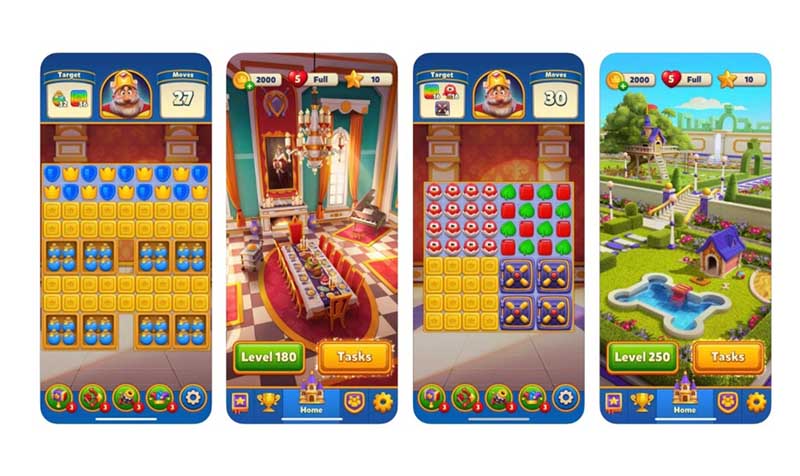 While doing this, we can see that the company actually takes the first steps towards becoming the entertainment company that it targets. Impressive use of data science, engineering and art are behind the creation and success of their first game. According to the team's statements, they are not worried about being a hit. They focus on making a quality game that will bring success. In addition, according to their statements, this approach is also supported by Index Venture, which manages the funding round of the team.