While in the current scenario of the gaming market "accelerating across the board," how to grasp the latest trends in media buying, how to take the lead in occupying the blue ocean market, and how to understand the innovative trends in gameplay within niche game genres—these perennial crucial issues—have found a fresh interpretation in Q3.
In response to this, SocialPeta released the "2023 Q3 Global Mobile Game Marketing Trend Insight" report. The report delves into the dynamics of the mobile gaming market in Q3 of 2023, providing a systematic analysis and attribution of the gaming market from aspects such as volume purchase placement, material trends, download and revenue share of game developers, and marketing feedback on new games. This report aims to provide the most updated and comprehensive marketing roadmap for game developers, material optimizers, and game manufacturers. 
Outlines: This report covers four key sections:
●      Overview of global mobile marketing in Q3 2023
● Top mobile game rankings globally in Q3 2023
● Popular game genres and download/revenue data
● Marketing insights on hot new games in Q3 2023
Over 110K advertisers in 2023, average 169 creatives per month
The intensity of competition in the 2023 market likely exceeded any expectations from 2022.
Competition doubles, global mobile game advertisers grow 72.3% YoY
Looking at the full year, global game advertisers have accumulated over 110K in 2023. However, the staggering 72.3% YoY growth also shows more and more studios scrambling to rely on advertising for growth. Meanwhile, the 38% YoY decline in average monthly creatives per advertiser further illustrates that even as production costs fall, the cost per install ad continues rising, forcing iterative optimization of creative.
Looking specifically at Q3 2023, new creative advertisers exceeded 58K, continuing to increase and accounting for 94.10% share, up 9.6% from last quarter. New creatives in Q3 2023 exceeded 10.8 million, with the share of new creatives rocketing from 60% in 2022 to 80% today. Creative burn is also growing rapidly.
The Middle East emerges as the least saturated market for global game advertisers
As the leader in advertising scale, North America still had the highest average monthly advertisers globally in Q3 2023 at 28K. In contrast, the Middle East had just 13K, although with 122 average creatives per advertiser, on par with top markets like Europe and Japan/Korea, there is sizable room for growth.
Southeast Asia retained its title of highest advertising intensity per advertiser, averaging 142 creatives each, followed closely by North America and China's Hong Kong, Macao & Taiwan.
Short video domination, pre-registration creatives surge
Looking at creative types, square feed images at 800×800 and 600×600 saw the widest use. For video, unsurprisingly, short videos under 30s dominated, with short video platforms becoming advertiser darlings. Studios are actively trying out short video styles mimicking KOLs.
Could simulation games present new growth opportunities?
The simulation genre lacks the high revenue volatility and peaks of RPG games. Still, it offers its own long-term operations, high DAU, and high retention advantages, making it a consistently popular export genre. According to the data, Chinese developer simulation products account for 36% of App Store revenue, second only to Strategy and Role-playing.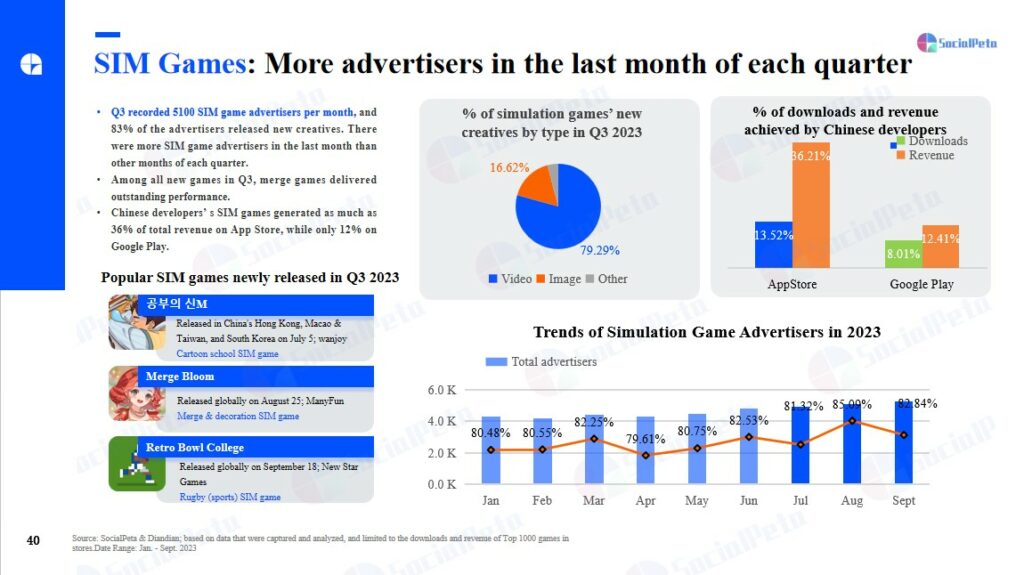 Looking at the data, the simulation genre maintains high popularity and conversion globally through diverse gameplay, themes, and art styles. Simulation developers have a very mature export publishing process – Chinese-themed games launch first domestically, then expand to China's Hong Kong, Macao & Taiwan, and SEA. At the same time, cartoon-style games launch first in the US and EU before syncing to other markets.
In addition to constant gameplay and theme innovation, advertising shows immense intensity for the genre – just behind Casual and Puzzle, with nearly 80% video creative share, the monthly average of 5100K advertisers, and 80% share of advertisers placing new creatives each month.
Simulation games are also proficient in driving sales through mini-game
Simulation content can be considered a "unisex" standard. Their video content often uses high-profile short video content with mini-games, niche interests, melodrama, problem-solving, etc., to attract users' attention. Among them, ASMR mini-game purchasing is a recent popular "exploding" purchasing creativity. Cosmetic acne popping brought fire to Dragonplus.
Beast Lord places 2,000 ads daily, StarUnion makes a second The Ants: Underground Kingdom
The brand new action SLG game 【Beast Lord】 developed by StarUnion was officially launched globally in Q3 2023 (July 31). Previously, through the success of 【The Ants: Underground Kingdom】, StarUnion pioneered the niche market of insect SLG games.【Beast Lord】 is StarUnion's next heavyweight animal-themed SLG product. TikTok was already capturing its Android ads as early as December 2022. The game had over 6,500 dedicated ads across both platforms in Q3 2023. According to TikTok, the game had nearly 2,000 ads on both platforms on launch day. In August and September, the daily deduplicated ad count across both platforms also reached 2,000.
In terms of ad creative, 【Beast Lord】 reused the success of 【The Ants: Underground Kingdom】. It focused on presenting narrative elements in its ads, such as family, revenge, survival of the fittest, leveling up by beating monsters, recruiting allies, the return of the true king, and other common online fiction tropes.
The report also provided a detailed analysis of the ad data and marketing strategies of other popular new games launched in Q3:
【Metal Slug: Awakening】 – Major Q3 release by VNG
【Sword of Convallaria】 – Authentic Japanese tactical RPG
【MapleStory R: Evolution】 – Classic PC game's mobile revival
To find out more about the marketing analysis of the mobile game industry, please download the full report here.